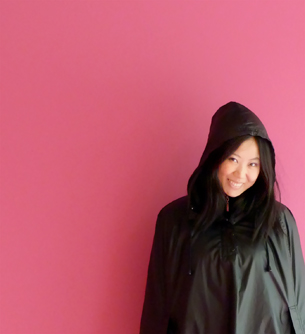 Amy Chien is an interaction designer and art director, specializing in interaction/user experience design, product design and graphic design.
Amy likes to build things and experiment with different mediums and construction methods. Her recent work focuses on the idea of "transformative" interaction. She is interested in activating the diversity of human activity by changing physical space and objects. She also considers technology as a parallel media to provide her work a sense of intimacy. Amy has worked and directed various design disciplines. She is a natural leader with the ability to unleash the power of a collaborative team.
Amy's projects have been exhibited at Maker Fair (New York, NY), 2010 Re-New Digital Art Festival (Copenhagen, Denmark), and NIME 2010 (Sydney, Australia).
___________________________________________________________________________________
CV
EDUCATION
2011     Interactive Telecommunications Program, Tisch School of the Arts, New York University | MPS, Interactive Technologies
2008     Pratt Institute, Brooklyn, NY | BFA, Visual Communication Design
SKILL
Adobe Creative Suite | HTML | CSS | Flash | Rhinoceros | 3D Studio Max | Processing | Arduino
GRANTS, AWARDS & PUBLICATIONS
2010     Lew and Edie Wasserman Graduate Scholarship
2010     "He'(和)", selected paper of the New Interface for Musical Expression(NIME) 2010 Conference, Sydney, Australia
2010     Microsoft Firenze Final Round, NYU
2010     Qisda 2009 Corporate Sustainability Reports. Published on December
2009     SND The Best of Newspaper Book Cover Design, Hard Cover Winner. Published on October
2009     Gillette Landmark Design Competition, 3rd Place
2008     CATALOGUE magazine, Buenos Aires, Argentina. Published on December
2007     Coca-Cola First Generation Scholarship
2007     America Reads/Counts Designer Award, Pratt Institute
EXHIBITIONS
2011     "Hermetically Sealed" | Artist, Todd Holoubek's 2011 Solo Show | New York, NY
2010     "WriteMe" | ITP Winter Show | New York, NY
2010     "He'(和)" | NIME Conference | Sydney, Australia
2010     "MagneticPlay" | Maker Fair | New York, NY
2010     "MyCloud" | Re-New Digital Art Festival | Copenhagen, Denmark
2010     "He'(和)" | Re-New Digital Art Festival | Copenhagen, Denmark
2010     "MyCloud", "Picell", "Rapport" | ITP Spring Show | New York, NY
2009     " The Door" | ITP Winter Show | New York, NY
2008     "Books on the Runway" | America Reads/Counts | Brooklyn, NY
2008     "WSA" | ME TOO Shoes | New York, NY
2007     "FFANY" | ME TOO Shoes | Las Vegas, NV
2005     "Palace" | Women's Forum Magazine, Seattle Community College | Seattle, WA
2005     "Spiral" | Library Art Gallery, Bellevue Community College | Bellevue, WA